NEWS AND UPCOMING EVENTS
May 2011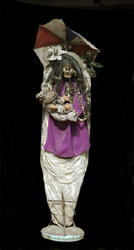 The Republic of Haiti will be represented, for the first time, at the 54th Venice Biennale.
"Death and Fertility" is one of the two Haitian Pavilions which represents the works of three artists from Port-au-Prince, who are part of Atis-Rezistans, the artistic collection from the Grand Rue neighbourhood. The Pavilion will be dedicated to Gede, the family of spirits, which in the Vodou religion, embody both death and fertility.
Curator - Daniele Geminiani
Adjunct Curator - Leah Gordon

From June 2nd to July 28th
Tuesdays through Sundays from 10:00 a.m. to 6:00 p.m.
Address:: Riva dei Sette Martiri, Sestiere Castello, Venezia
Stop: Giardini

http://www.deathandfertility.org/page_1/index.php
May 2011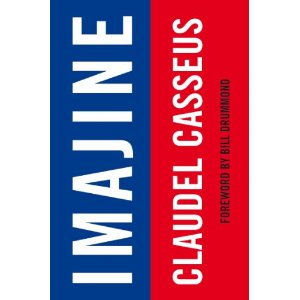 Claudel Casseus, member of Ti Moun Rezistans, has had a book published, 'Imajine', about his experiences after the earthquake. The book is a product of his one year collaboration with artist Bill Drummond.

Read about the collaboration

Buy the book

April 2011
Celeur, Eugene and Racine Polycarpe have made site-specific work for XISM at Etnografiska Museet, Stockholm Sweden

http://www.etnografiska.se/smvk/jsp/polopoly.jsp?d=1657
April 2011
Cheby was featured in

NEW WORKS at GALERIE LAKAYE

Featuring

KILLY
CHEBY
PETION

Three Haitian artists living in Montreal, Port-au-Prince and Los Angeles

We invite you to view Haitian passion and determination in their work.

SATURDAY, APRIL 2, 2011 * 7:00-10:00 PM
Galerie Lakaye
1550 N. Curson Avenue, Los Angeles, CA 90046
(Between Fairfax and La Brea, 1 block N. of Sunset Blvd.)

R.S.V.P. 323-460-7333 or galerie_lakaye@pacbell.net
www.galerielakaye.com
April 2011
HAÏTI
ROYAUME DE CE MONDE
8 avril ® 18 mai 2011

Exposition collective
Sergine André / Elodie Barthelemy / Mario Benjamin / Jean-Hérard Celeur / Maxence Denis Edouard Duval-Carrié /André Eugène / Frankétienne / Guyodo / Sébastien Jean Killy / Tessa Mars / Pascale Monnin / Paskö / Barbara Prézeau Roberto Stephenson / Hervé Télémaque / Patrick Vilaire

et Jean-Michel Basquiat.
Hommage à Edouard Glissant

Commissaire de l'exposition Giscard Bouchotte

Ouverture le 7 avril de 18h30 à 2lh3O
en présence des artistes


17 rue Dieu, 75010 Paris – M° République Tél. : 01 40 03 45 00
entrée libre du lundi au samedi de 14h à 19h

Une coproduction du Fonds de Dotation agnès b. et de l'Institut français
see a film about the show
March 2011
Reframing Haiti: Art, History and Performativity
From March 23-April 21, 2011, Brown University, in collaboration with the Rhode Island School of Design and the Waterloo Center for the Arts

See http://brown.edu/web/reframing-haiti/schedule.html
January 2011
Street music and voodoo art in Haiti can be seen on BBC News!

Check out http://www.bbc.co.uk/news/world-12129690
November 2010
Il y aura une exposition d'art par Atis Rezistans au Hotel Oloffson, Rue Capois, Port-au-Prince le Mercredi le 17 Novembre 2010 toute la journée.
Dans la soirée, RAM et Azors jouera à partir de 8h et Georges Michel va parler de l'indépendance.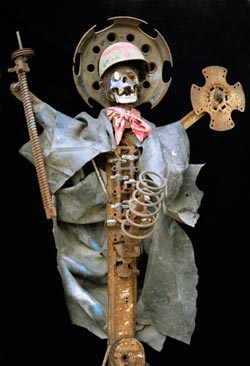 There will be an exhibition of work by Atis Rezistans at the Olofsson Hotel, Capois Street, Port-au-Prince, all day Wednesday 17 November.
In the evening, RAM and Azors will perform from 8pm and Georges Michel will be talking about the independence.
November 2010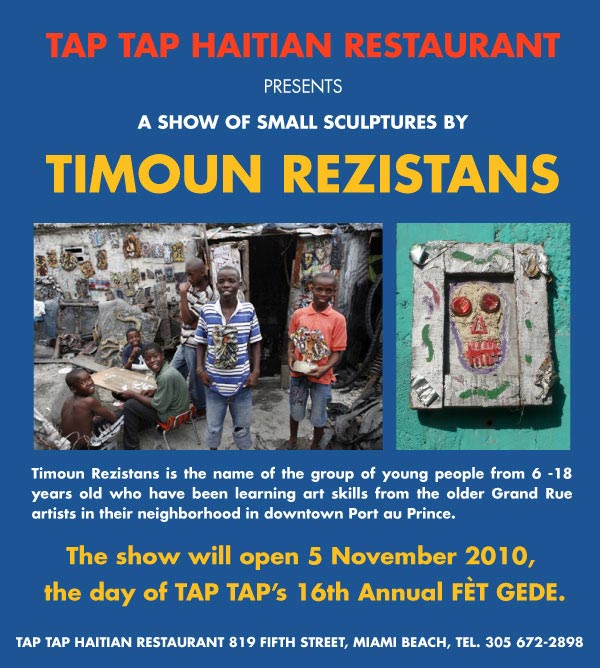 October 2010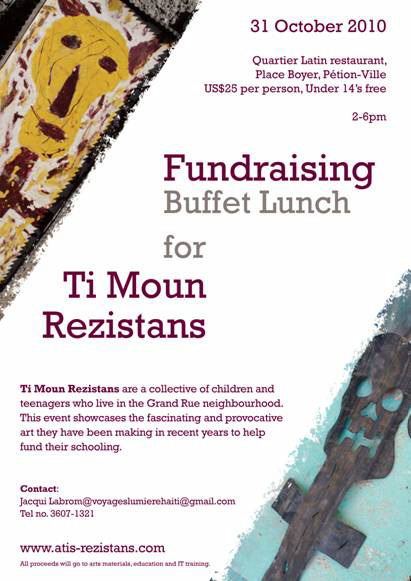 June 2010
Celeur, Eugène and Cheby are exhibiting at Gloria Maria Gallery

29 JUNE - 7PM - 10PM
THE SCULPTORS OF GRAND RUE: ANDRE EUGENE, CELEUR JEAN HERARD, CHEBY
C/O GLORIAMARIAgallery - VIA WATT 32, MILAN
The exhibition will be on view until September 15th, 2010

For further information please see http://artevisuale.it/ and the exhibition catalogue
June 2010
The artists are taking part in the show 24 Month Meditation at Sala del Camino-SS Cosma e Damiano, Giudecca 621, Palanca, Venice, Italy from 12th June - 29th August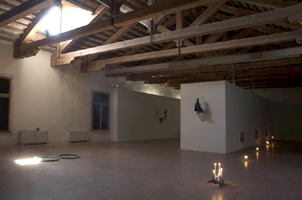 http://eventualmente.wordpress.com/
2010
Celeur took part in a show in Dakar
2009
Andre Eugene had work in: The Global Caribbean Project 2009 Art Basel Miami dec 2009 Curated by Edouard Duval Carrié
01.06.2009
The Grand Rue Artists are presenting the world's first 'Ghetto Biennale' from 28th November - 18th December 2009
2009
All three artists are presenting a work they did in collaboration with artist Mario Benjamin at the Kreyol Factory 7th April - 5th July 2009

2009
Guyodo and Celeur were exhibited at Mythologies, Haunch of Venison, London 12th March - 25th April 2009

2009
Eugene was showing three sculptures at Voo-Doo at the Riflemaker Gallery, Soho, London 19th January - 4th April

2008
Guyodo was showing work at a show called Urban Alchemy at Galerie Macondo, Pittsburg in April 2008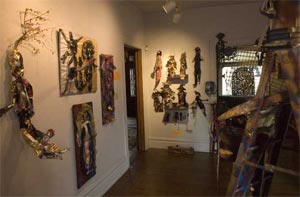 04.07.2008
Eugene will be showing his work at Marxism: A Festival of Resistance at the Left in Vision exhibition
02.07.2008
Eugene will talk about his work and present the new documentary 'Atis Rezistans' by Leah Gordon at the Conference of Caribbean Studies Society for Caribbean Studies 32nd Annual Conference 2nd - 4th July, 2008 Institute of Geography, University of Edinburgh
10.05.2008 - 19.05.2008
Guyodo, Eugene and Celeur will travel to Geneva to make a site specific sculpture in conjunction with 'Le Vodou: An Art of Life' at MEG, Musee D'Ethnographie de Geneve.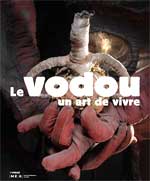 21.01.2008 - 26.01.2008
Guyodo travelled to Université Michel de Montaigne Bordeaux 3 to make a site specific work.
08.11.2007 - 17.11.2007
In late October Eugene travelled to Paris to create a site specific work with video artist Maksaens Denis which was shown at La Dynamo, Paris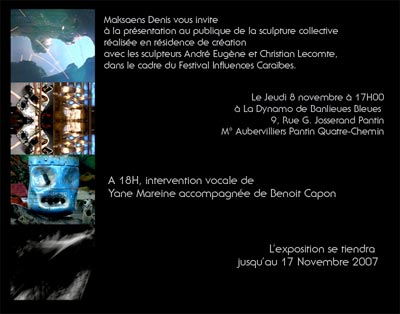 27.08.2007 - 16.10.2007
Guyodo, Eugene & Celeur took part in Vodou Riche: Contemporary Haitian Art at the Glass Curtain Gallery, Columbia College, Chicago. They also ran art workshops for the local students.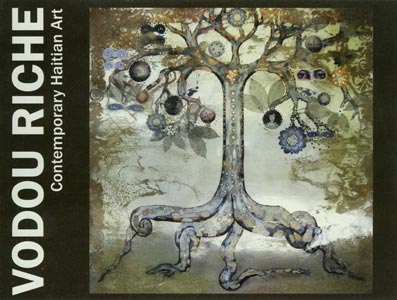 08.08.2007
Andre Eugene will be present at the two day film festival at the Foundry and take part in a Q & A about art, politics and society in Haiti today - for more details about the exact programme email Leahgordon@aol.com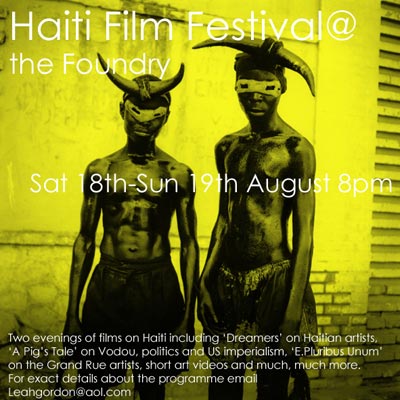 07.08.2007
Andre Eugene and Leah Gordon will be exhibiting sculptures and photographs at the Foundry from August 7 to 21. There will be a party on wednesday August 15 from 7pm. The Foundry. 84-86 Great Eastern Street London EC2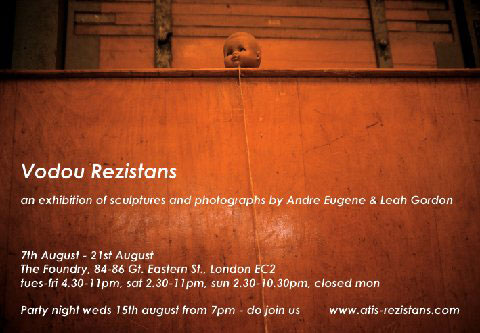 18.03.2007
To mark the anniversary of the abolition of British slave trade, Christian Aid UK and the International Slavery Museum, commissioned a sculpture from Eugene, Celeur, Guyodo and Mario Benjamin. The Freedom! sculpture was unveiled in Liverpool in February 2007 and will tour the country before it becomes a permanent exhibit in the new museum. To incorporate a sense of what freedom and slavery means to people in Haiti today, the artists held workshops with youth groups run by APROSIFA, a Christian Aid-supported organisation in Haiti set up to provide basic education, run health clinics and work towards an end to gang fighting. People are encouraged to take campaigning action at www.pressureworks.org to help change unfair international trade rules and debt terms as part of the fight for freedom and basic human rights today.

Venues of the UK tour include:
· Merseyside Maritime Museum, Liverpool: 26 Feb – 1 April
· Stratford Circus Arts Centre, London: 3 April – 19 April
· The British Empire & Commonwealth Museum, Bristol: 23 April – 11 June
· The Eden Project, Cornwall: 13 June – 31 July
· International Slavery Museum, Liverpool: 23 August onwards.
10.03.2007
The artists are having a show at the Foundry Bar/ Gallery, 86 Great Eastern Street, London EC2A 3JL from weds 21st March to sun 1st April.
Opening night party from 7pm on the 21st March.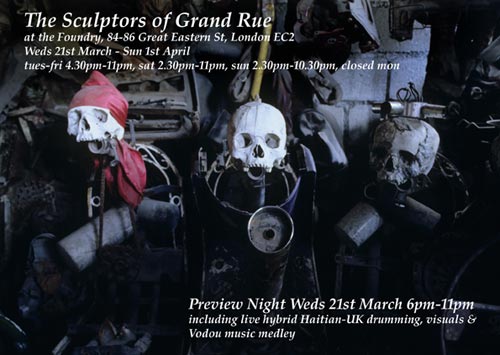 31.01.2007
The Haiti Support Group are holding a reception for Haitian artists Mario Benjamin, Jean Herald Celeur, Andre Eugene and Frantz Jacques Guyodo on Thursday March 1st 6pm - 9pm at Four Corners, 121 Roman Road, London E2 0QN
There will be a screening of E.Pluribus Unum by Maxence Denis (22 mins) and a presentation by the artists with Q & A and refreshments. As there is limited seating only those who have sent an RSVP by email to Leahgordon@aol.com will be admitted.

For more information check http://www.haitisupport.gn.apc.org/ or www.fourcornersfilm.co.uk